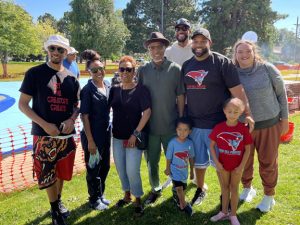 Mural Of Chauncey Billups, AKA King Of Park Hill, Fills The Basketball Court At Skyland Park
Back before he was the King of Park Hill, before he was Mr. Big Shot, Chauncey Billups practiced his signature moves on the court at Skyland Park.
On Sept. 25, artist Marley Boling — joined by Billups' parents, a group of neighborhood children and other supporters — kicked off a mural-painting project that covers the basketball court where Billups used to practice with his likeness. The mural is the the newest art installation along the 303 ArtWay Heritage Trail, a route envisioned to eventually include a bike loop connecting the 40th and Colorado Station to 33rd and Holly Street, which is the location of Skyland Park.
The project was funded by Denver Arts & Venues through a P.S. You Are Here grant.
Billups is now head coach for the Portland Trail Blazers and could not attend in person. But before the painting commenced, Herman White, a member of the 303 ArtWay Steering Committee and longtime Park Hillian, delivered this statement from Billups: "For anyone that knows me, knows how much this neighborhood means to me, particularly Skyland Park," Billups said. "I've learned many life lessons on this block that I've taken with me and those lessons have contributed to all of my successes.
"I'm humbled and honored to be recognized with this mural in the very place that I love the most.
"Thank you to everyone who contributed to this project and to the community for voting on it."
— Cara DeGette