Newspaper Honored For Work Done In 2020
By Cara DeGette, GPHN Editor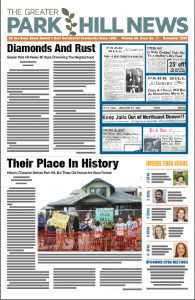 We're excited as all get-out that the Greater Park Hill News has brought home eight — count 'em, eight! — first place awards for excellence in journalism last month. Our small-but-mighty staff and talented freelancers also won two second and one third place awards.
The awards — from Top of the Rockies regional and Colorado Press Association statewide competitions — are for stories and photos that were published during 2020. The Top of the Rockies is sponsored by the Colorado Society of Professional Journalists and includes all news media in a four-state region. The Colorado Press Association awards include accredited news organizations in Colorado.
Over the past year we've been thrilled to see so many readers and advertisers re-embrace community journalism, realizing its critically important role in a thriving democracy. That, for us, is the biggest prize of all.
Like many newspapers, last year proved to be a big challenge for us. Many of our advertisers suffered through the pandemic, which resulted in a drop in revenues for us. In November we launched a fundraiser to help make sure we can continue the tradition of delivering for free the news of the neighborhood. To date, more than 60 of you have donated nearly $5,000. The fundraising campaign continues — check out all the options at greaterparkhill.org/newspaper/support/
Being recognized for excellence underscores our commitment to providing readers and advertisers with compelling, relevant, and interesting journalism. With that in mind, we extend our congratulations to all the winners in the competitions — including daily, weekly, television, radio, magazine and other monthly publications.
The following is a list of our honors.
Top of the Rockies
First Place, News Column
Raw Politics by Penfield Tate — Submissions included columns delving into last summer's Black Lives Matter protests following the murder of George Floyd and historic police reforms in Colorado, as well as a piece detailing the growing crisis of homelessness on the streets of Denver.
The Murder Of George Floyd Sparks An Extraordinary Month, Punctuated With Protests Against Racial Injustice, Police Brutality and In Colorado, Historic Reforms
30 Homeless Encampments, 664 Tents – and Counting
Judges Comments: The author has a talent for gripping a reader from the get-go, wrapping facts and truth in blunt, forceful language that drives home a point, sparks thought, and stirs emotion.
First Place, Short-Form Feature
This House Has Seen It All by Cara DeGette — The story of the historic house at 26th and Clermont whose past owners Include an early Denver developer, a lawyer who stood up to the KKK, and a famed Colorado mountaineer and inventor.
Judges Comments: An incredible piece documenting a place, but also the people that shaped it and their city.
First Place, Single Page Design
The Tour de Denver by Tommy Kubitsky and Reid Neureiter
Ride Like A Legend: A 24-mile circumnavigation around the Mile High City.
Judges Comments: Great use of photos and other design elements to lead readers through the page.
First Place, Feature Photography
All Lit Up by Reid Neuriter
Photo essay showing Denver in all its holiday glitter.
Judges Comments: A nice mix of colorful nighttime imagery that does a good job conveying the playfulness of the event.
Third Place, Feature Photography
Looking for Smaug by Reid Neureiter: Lone Eagle Peak, in the Indian Peaks Wilderness, may be Colorado's best hike
Colorado Press Association
First Place, Editorial Special Section
Diamonds and Rust by Cara DeGette, Tommy Kubitsky, Tracey MacDermott, Penfield Tate III, Jack and Pam Farrar
When the Greater Park Hill News turned 60 years old last November, we highlighted six decades worth of chronicling a remarkable neighborhood, and the newspaper's role in helping to shape events large and small. Accompanying columns highlighted the history of activists and their contributions over the years, and why community newspapers are critical to democracy.
First Place, Business News/Feature Story
Fighting for Survival by Cara DeGette — A package highlighting how local businesses were immediately hit hard in the immediate months after the start of the pandemic.
First Place, Photography Portfolio
Reid Neureiter's Portfolio — Photos included a wide variety of photos, from high school sports and activities to shots of neighborhood life to outdoor adventures and wildlife.
First Place, Sports or Sports Event Story 
Sign Me Up by Reid Neureiter — A story highlighting numerous high school athletes and the colleges and universities who had signed them to play.
Second Place, Series or Sustained Coverage
Park Hill's Pandemic Past by Stephen J. Leonard — A two-part series revisiting the last pandemic to hit Denver — the Spanish Flu pandemic of 1918.
Part One of the series
Part Two of the series
Second Place, Page Design
The Tour de Denver by Tommy Kubitsky and Reid Neureiter