Park Hill Garden Walk Scheduled For June 28
Jean Ercolani
Park Hill Garden Walk Organizer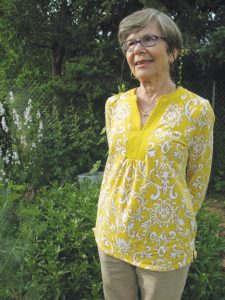 The year was 2000 and Ann Long was volunteering for Greater Park Hill Community, Inc. The Registered Neighborhood Organization was struggling financially to support the various programs it offered to residents, as well as the newspaper you are reading right now. The association was in need of a fundraising effort. Thus, Ann volunteered to organize a Park Hill Garden Tour.
Early 2001 newspaper articles encouraged residents to join the Garden Tour committee. A dozen people happily volunteered. As a current committee member, I'm a little jealous. We have seven committee members, and are looking for more people to join our team. If you are interested, please contact Patty at prmead416@gmail.com or Carla at carla.j.finch@gmail.com.
Long and team literally walked the alleys throughout Park Hill scouting out nice gardens – which is still the practice by organizers today. Homeowners were later approached and asked about participating in the event. Again, the response was incredible. They got 24 gardens the first year. That's both the good and the bad news. The team was thrilled, and loved the enthusiasm from both the gardeners and volunteers. However, attendees complained because they couldn't get to all the gardens in one day.
The third year, artists were introduced to the Garden Tour. What a fabulous touch. Gardens are a work of art, and what better way to celebrate that than with artists showcasing their work in these gardens. This feature is still a key component of the Garden Walk. The art runs the gambit, from watercolor, mixed media, working en plein air, oil painting, metal sculptors, jewelry, pastels, origami and more.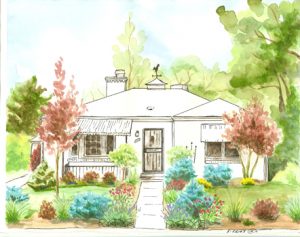 The artists' work, passion and talent is a joy to behold. Last year, for the first time, artists were allowed to sell their work at the Garden Walk. Both artists and attendees met this change with tremendous enthusiasm.
A few years into the Tour they decided to change the name to Park Hill Garden Walk in an attempt to promote walking from garden to garden. There is also now designated parking for bicycles at each house. So, not only will you experience some incredible gardens, you'll get a little exercise too.
I recently asked Long what she enjoyed the most about the Garden Walk. Her answer was quite simple. She said she loved the elation she felt at the after-party – an event that celebrates the gardeners, volunteers, sponsors and all other people involved. She said the joy shared by all was spectacular and heartwarming.
In 2010, Long turned the Garden Walk over to a new group of committee members. She had nothing but great things to say about the volunteers she worked with as well as the team that followed in her footsteps. She gave a special shout-out to Mary Ann Welch and Helen and Pat Quinn for their ongoing commitment and passion for the event.
Today, the Garden Walk is chaired by Carla Finch and Patty Mead. Five other members make up the rest of the team. It's a very special group of people and we have a great time working together to make the day happen. The event continues to raise funds to support the Greater Park Hill Community, Inc. mission.
Kudos to Long and her team for their commitment and vision. I can attest to the time and energy it takes to put the Park Hill Garden Walk together each year. That initial team started this endeavor from scratch and in a few short months held an event that was not only successful in year one, but has continued to grow for 19 more.
So, here we are in 2020 and the Park Hill Garden Walk is going strong. This year's Garden Walk is Saturday, June 28 from 9 a.m. to 3 p.m. There are nine gardens this year, including two in the Mayfair neighborhood. Tickets go on sale beginning May 1 at parkhillgardenwalk.org. Advance tickets are $15 for adults and $12 for seniors. There is no cost for children under 12.
Learn more about GPHC and sign up to volunteer at www.greaterparkhill.org.