Denver Cyclists Rally For Racial Justice
Story by Cara DeGette and Reid Neureiter, Photos by Reid Neureiter and Darcy Neureiter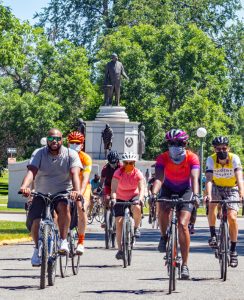 On Saturday, June 20, more than 150 cyclists congregated in Five Points ready to roll for racial justice.
The inaugural Ride for Racial Justice was organized by Marcus Robinson, who is Black, and Neal Henderson, who is white.
"We believe that the bicycle represents freedom," said Henderson, reading from a statement at the beginning of the ride. "Unfortunately, not everyone has the same freedoms due to the color of their skin. We believe that racial justice is a human right. Join with us to be seen and heard to help end racism. That is why we are riding today."
The 10-mile ride began in Five Points, headed east down Martin Luther King, Jr. Boulevard into Park Hill (where the cyclists were cheered on by supporters, including Robinson's 89-year old mom Mary, who lives at Bellaire and MLK, Jr. Boulevard). The route looped around, and the riders headed back west along Montview to City Park, past the MLK, Jr. statue, past East High School and then back to Five Points via 16th Avenue.
After the ride, Robinson provided some background on the inspiration for the ride – and shared his experience as a Black man, riding his bike alone.
"I'm actually scared due to the vitriol and lack of leadership coming out of 1600 Pennsylvania. The places I love to ride are remote, no gas stations, restaurants, etc. peace and tranquility," he told the GPHN. "This is the only time in my life I'm afraid and it's due to the color of my skin and because there is no leadership or condemning of racism, individuals believe they can act out violence because there will be no accountability. In my case I could be hit, killed and no one would have found me. So I choose to ride with friends."
The success of the first ride – which was further bolstered by a video of support from Gov. Jared Polis – has inspired Robinson and Henderson to start planning the next one, which is expected to be in Denver later this month. Anyone who is interested in joining should check for updates at the group's Facebook page @rideforracialjustice, on Twitter at @justiceriderz or on InstaGram @rideforracialjustice.
"Cycling is a billion dollar asset globally and we need to have a seat at the table and work with corporations that believe in the same things," said Robinson. "We've ripped off the scab of racism and we will no longer be silent."