Lt. Jeff Wagoner Shares Stories From The Firehouse
Interview and photos by Reid Neureiter
For the GPHN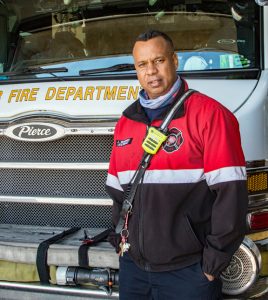 Denver Fire Department Lt. Jeff Wagoner, a Park Hill native and George Washington High graduate, has been a firefighter since 2008. He was recently promoted to a Roving Lieutenant, putting him in command of the fire truck or engine and decisions made responding to fires, car accidents and medical emergencies for fire houses in District 6, which serves west Denver. Wagoner, 52, lives on the 2600 block of Locust Street and is a father of two boys, Zion, 18, who will be a freshman scholarship soccer player at the University of Memphis in the fall, and Zechariah, 15, a freshman at East High. He shared a few stories about being a firefighter with the Greater Park Hill News. (This interview has been edited for clarity and space.)
GPHN: What made you want to become a firefighter?
JW: I had the desire to help others in need. I worked 13 years in Colorado State Corrections before taking and passing the firefighter's exam. When working in corrections, you can really help maybe one in 100 people. But as a firefighter, you help people every day. As firefighters we are able to impact people's lives who are in crisis.
GPHN: How difficult is it to become a firefighter?
JW: It is very rigorous and competitive. I took the test several times and finally passed with a high enough score to get an interview in 2006. I was one out of 100 people hired out of 4,000 candidates during the two-year testing period. Going in, I thought the physical aspect would be most challenging due to my age as I was the third-oldest person in my class. However, the most challenging part was the written exam. After being hired, you attend training academy five days a week from 6 a.m. to 5 p.m. for 18 weeks.
GPHN: What is a day in the life of a Denver firefighter like?
JW: We work 24-hour shifts every three days. While at the firehouse, we eat together and have our own sleeping spaces. The days are very unpredictable depending on the number and type of calls and training requirements for the day. You can get anywhere from two to 12 calls a shift.
GPHN: The physical demands of being a firefighter are challenging. How do you and your colleagues stay in shape so that you are ready to respond when the time comes?
JW: The equipment we work with (hoses, tank, and tool) weighs 110 pounds. There are gyms at the firehouses and we work out daily. Yes, it is challenging, but we have to continue to stay in shape and maintain our medical training. With my promotion I have different responsibilities and I am not required to do as much of the physical work.
GPHN: What has been the most memorable event that you have responded to as a firefighter?
JW: A three-alarm fire in an apartment complex was exciting, terrifying and memorable because it was dangerous; we had to get everyone out while fighting the fire. Also memorable was delivering a child in someone's home and doing CPR on someone who did not make it.
GPHN: What is your most frequent type of call, between fires, auto accidents, and medical emergencies?
JW: Medical emergencies. We respond even before paramedics do. The ideal is to have a firefighter able to respond within four minutes of a call anywhere in the city. In the situation of a medical emergency, such as a heart attack, timing matters. We are all trained E.M.Ts. So that is why firefighters respond to medical calls. And that is why the Fire Department asks City Council for money to build new stations — to be able to respond quickly anywhere in the city.
GPHN: 2020 was a tough year for many people, with the protests that shut down much of downtown Denver during the summer, and the pandemic affecting everyone in various ways. How did these various events affect you and your colleagues in the fire department?
JW: Our jobs remained the same. Regardless of what is going on even in a pandemic we are responsible for protecting life and property. The pandemic has caused us to have to wear additional personal protective equipment, and we exercise more caution when entering people's homes.
GPHN: What advice would you have for someone interested in becoming a firefighter?
JW: This is the best job I've ever had and I love it. As far as advice, stay physically fit. Continue with your education and perform well in school. Don't give up on your dreams and desires, even if it takes multiple times to pass.
GPHN: Do you have any advice that we should all take to minimize the chances of having to make a 911 call?
JW: You should change the batteries and check the function of smoke and CO detectors every six months. Have a family evacuation plan in case of fire. Look out for your neighbors.