GPHN Wins Seven Top Of The Rockies Journalism Awards For News, Features, Photography, Public Service
By Cara DeGette
Editor, GPHN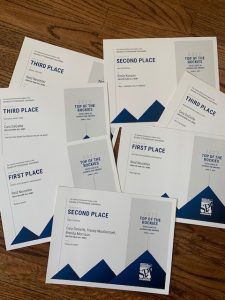 We're pleased as all get-out to report our small-but-mighty Greater Park Hill News team of part-timers and volunteers has brought home seven awards in this year's Top of The Rockies regional journalism competition. The awards are for news, features and photos published in 2021, and include a nod in the coveted Public Service category for sustained coverage of the Park Hill Golf Course land controversy.
For the past several years, your neighborhood newspaper has excelled in journalism competitions — usually going head to head with much larger newspapers and news organizations with far more resources. The contest is sponsored by the Society of Professional Journalists and open to journalists in Colorado, New Mexico, Utah and Wyoming.
Public Service awards recognize exceptional coverage on a topic or issue that is important to the community. Our submission in the Public Service category — Going For Green — included news stories and opinion pieces that highlighted how deep-pocket developer Westside Investment Partners has teamed up with City Hall in efforts to pave the way for development of the 155-acre Park Hill Golf Course property. Our coverage included self-styled David versus Goliath efforts by the local group Save Open Space Denver that culminated with last November's decisive citywide vote to add protections to the conservation easement on the property.
Yours truly, along with opinion writers Tracey MacDermott and Brenda Morrison, were named on the second place award. The stories and opinions in the Going for Green package can be read at this link.
Here's how we landed in other categories:
First Place: Feature Photography
Step Right Up by Reid Neureiter
The judges praised Neureiter for capturing the unique and fun aspects of the 2021 East High prom, in the theme of an outdoor carnival. Check out the story and photos at this link.
First Place: Sports Photography
Back In Action by Reid Neureiter
The judges raved about the great action shots in this photo-heavy feature of East High athletes returning to the courts and fields after spending a year-plus sidelined due to the pandemic. The photos and story are at this link.
Second Place: Obituary Writing
Mary J. Mullarkey Was A Trailblazer by Emily Korson
This touching tribute to former Colorado Chief Justice and longtime Park Hillian Mary J. Mullarkey was written by her daughter in law. It can be read at this link.
Third Place: News Reporting Single Story
All In The Family by Cara DeGette
The news story detailed the latest twist to the years-long controversial Fairfax Park land swap deal in Park Hill, its impact on Denver taxpayers — and how the brother of parks director Scott Gilmore landed the contract to build the $1.2 million park. The story can be read at this link.
Third Place: Sports Feature
Shooting Through The Pandemic by Reid Neureiter
The story and photos highlighted how East High athletes adapted to playing sports during the pandemic — including wearing masks and competing in nearly empty gyms. Story and photos are at this link.
Third Place: Feature Writing
The Epic Snow Snake That Slithered 'Round The World by Cara DeGette
This story detailed how one Park Hill family's 77-foot monster-sized reptile snow sculpture became a global sensation. Story and photos are at this link.
Being recognized for excellence underscores our commitment to providing readers and advertisers with compelling, relevant and interesting journalism.
Thanks to our advertisers for supporting local journalism, and to volunteers who help contribute to our success. The Greater Park Hill News's unique model engages scores of volunteers (called blockworkers) who deliver the newspaper each month to homes all over the neighborhood. To those blockworkers, we are ever grateful.
If you are interested in helping deliver the newspaper, contact Manager Melissa Davis at newspaper@greaterparkhill.org. If you want to contribute a story, photo or letter to the editor, contact me (Cara DeGette) at editor@greaterparkhill.org.
Congratulations to all the winners in this year's competition— including daily, weekly, television, radio, magazine and other monthly publications.