The Nutcracker At Home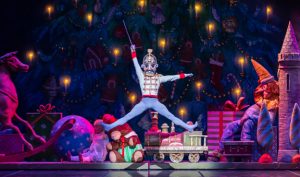 Like many performing arts organizations around the nation, the Colorado Ballet was thwarted this year from being able to perform "The Nutcracker" at the Ellie Caulkins Opera House downtown. So this year the Colorado Ballet teamed up with Rocky Mountain PBS and everyone can watch from home, at no cost. The Nutcracker will air on RMPBS on the following dates and times:
• Dec. 18, at 9 p.m.
• Dec. 19, at 1 a.m.
• Dec. 24, at 7 p.m.
• Dec. 25, at midnight
For information about how to access the Rocky Mountain PBS channel, visit rmpbs.org/channels/. The production also may be streamed at no cost, any time throughout the holiday season, on the Rocky Mountain PBS app, downloadable at rmpbs.org/pbs-video-app/.
Pretzels And Glühwein
Christkindl Market, celebrating its 20th year in Denver, is open now through Dec. 23 downtown. To accommodate safe physical distancing requirements, the German holiday market has been moved from its past site near the 16th Street Mall to the center promenade of Civic Center Park in front of the City and County Building. The outdoor, pop-up market replicates a European village festively decorated for the holiday season, with shops and Glühwein (mulled spiced wine), German Biers, hot chocolate and outdoor entertainment. The hours are Thursday through Saturday from 11 a.m. to 9 p.m. and Sunday through Wednesday from 11 a.m. to 7 p.m.
It's A Winter Wanderland
Cherry Creek North is all decked out in holiday cheer in a Winter Wanderland theme and is open to the public daily through Jan. 3. The 16 blocks of open-air sidewalks in the shopping district have been decorated, including a Light Walk that features a canopy of more than a half million twinkling lights dressing hundreds of trees. Eight of the trees have been adorned with vibrant hanging strands of lights choreographed to music. Another feature is Prismatica, a temporary lighted art installation that consists of 25 towering prisms that rotate at their base and display a kaleidoscope of color. The Winter Wanderland map and full details of each attraction can be found at CherryCreekNorth/Holidays. Cherry Creek is south of Park Hill, at University Blvd. to Steele St. between 1st and 3rd Avenues.