While Trump Tweets, Joe Biden and Kamala Harris Make History, And More History
By Penfield W. Tate III
For the GPHN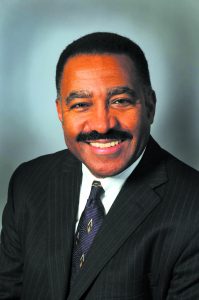 The promise of a new year has many of us anxious and excited. A new beginning and opportunities await. Literally, a new world is waiting for and welcoming us in many ways. I hope 2021 presents new and wonderful opportunities and hopes for you and your family.
Our excitement is, in no small measure, a function of 2020 being one of the worst years we could have imagined. Thank goodness it's over and good riddance. A global pandemic has changed the way we live. From working remotely, to virtual meetings, virtual holiday parties and, unfortunately, virtual visits with family and friends. Restaurants are closed or have limited dining options. Millions are out of work and getting unemployment benefits. Face masks are now a way of life, as are elbow bumps and virtual hugs.
The United States has been disproportionately impacted by the number of positive cases and, unfortunately, deaths. As of late December, more than 312,000 people have died of COVID-19, and seventeen-and-a-half million people have tested positive for the virus. In Colorado alone, more than 4,300 people have died, and 307,000 have tested positive.
The disparate impacts of the disease, as reported by the Centers for Disease Control, have been pronounced and too hard to ignore. Nationally 23.2 percent of all cases and 14.2 percent of all deaths have been Latinx peoples. Similarly, 13.2 percent of all cases and 17.4 percent of all deaths have been African Americans. Those communities are, respectively, 1.7 and 1.4 times more likely to contract COVID and 2.8 times more likely to die from the disease.
Far too many people have died alone and in quarantine. We all know someone who has been infected and unfortunately, too many of us — me included — know someone who died from the disease. We need a new year and fresh start for our own health and peace of mind.
A strange state of mind
Making things worse is the highly toxic political environment. Although two vaccines are now available, with at least one more on the horizon, many simply don't trust their effectiveness or the integrity of the process leading to their development.
This distrust is higher in communities of color, where any number of weird articles and pronouncements are being circulated about the damage the vaccines will cause – including altering your DNA. If many people are not vaccinated, in addition to the need to continue mask wearing and social distancing, we will never get on the other side of this pandemic.
As I speculated in November, COVID-19 was indeed the third presidential candidate. Voters were pretty clear about the fact that their support of President-elect Joe Biden and Vice President-elect Kamala Harris was in large measure a result of Donald Trump's denial of and abysmal handling of the pandemic. Through Election Day, the red and swing states where Trump encouraged voters to ignore science, and health agency recommendations were taking a disproportionate hit due to COVID-19. Those swing states, and a flip in previously red Georgia, cost him the election.
Losing is a fact. Accepting a loss, as we have seen, is a strange state of mind. After numerous recounts in states, Trump lost. Despite numerous court challenges, including one to the U.S. Supreme Court that he lost, — primarily based on no evidence and wild and crazy claims — Trump still claimed the election was stolen from him. It got to the point where Republican state officials dismissed the president's crazy claims, said their elections were fair and the results final — yet he retaliated against them on Twitter.
U.S. Senate Majority Leader Mitch McConnell finally, reluctantly, accepted the election results and asked Trump to stop his behavior and accept the outcome, to no effect. Indeed, reports of White House screaming matches between a faction of staffers encouraging Trump to accept the loss and a faction led by convicted felon Michael Flynn (pardoned by Trump) and Rudy Giuliani (Trump's attorney) and others advocating that Trump invoke martial law to stop the transition filled the airwaves.
Although not conceding, Trump finally authorized the government to fund and facilitate the transition to the Biden Administration.
Looks like America
And the President-elect has been moving rapidly and decisively.
Not stopping at making history with the first woman, Asian American and African American in the Vice President's office — not to mention a supremely talented person at that — Biden has worked to assemble a cabinet and staff reflective of America.
■ Former General Lloyd Austin, the first African American to lead the Department of Defense
■ U.S. Rep. Deb Haaland, the first Indigenous person appointed Secretary of the Interior
■ Janet Yellen, first woman to serve as Secretary of the Treasury
■ Jennifer Granholm, Secretary of Energy (a position once held by former Colorado Attorney General Gale Norton)
■ Michael Regan, first African American to run the Environmental Protection Agency
■ Neera Tanden to run the Office of Management and Budget
■ Katherine Tai, the first Asian American to serve as US Trade Representative
■ Xavier Becerra, the first Latinx to serve as Secretary of Health and Human Services
■ U.S. Representative Marcia Fudge, an African American woman who will lead the Department of Housing and Urban Development
■ Pete Buttigieg, former presidential candidate and openly LGBTQ person, as Secretary of Transportation
■ Avril Haines, a woman to serve as National Intelligence Director
■ Linda Thomas-Greenfield, an African American woman to serve as UN Ambassador
■ Cecilia Rouse, an African American woman to lead the Council of Economic Advisors
■ Former U.S. Sen. John Kerry to serve as Special Presidential Envoy for Climate
■ Kate Bedingfield as Communications Director
■ Jen Psaki as White House Press Secretary
Giving Planet Earth some love
And, as I write, it's still before Christmas. Beyond an obvious commitment to diversity, equity and inclusion, what else do to these appointments suggest?
The President-elect has already announced that on his first day in office the U.S. will rejoin the Paris Agreement on climate. Given the strong environmental record of John Kerry, and his newly-appointed position, it is clear that global warming and its impacts will be a high priority for the Biden administration.
Additionally, Regan, the appointee to EPA, has a strong environmental background. Regan has spent much of his career addressing the impact of environmental policy on communities of color and the disproportionally negative impacts of environmental policy decisions on those communities over the years. This will clearly be a point of emphasis and a point of departure between the Biden Administration over its predecessor.
As a complement, the Haaland appointment in Interior, communicates a different emphasis on protecting and preserving U.S. lands and open space. Expect to see immediate policy changes with respect to resource drilling and explorations. A more robust partnership with state and local governments, in conjunction with Regan at EPA and with an emphasis on protecting the environment is likely.
And obviously, Haaland's appointment indicates that this administration will be more responsive and receptive to the concerns of indigenous peoples and communities. Long ignored in the push for economic development and economic independence, expect significant policy change here similar to the efforts of the Obama administration and its focus on Tribal economic development on reservations.
Buttigieg, as Transportation Secretary, clearly signals a higher priority to be placed on transit development and other alternative transportation methods. Moreover, his credentials as a progressive, indicate that this will not only be a high priority but could potentially be an area where the Biden Administration may be willing to be on the leading edge of innovation and change. The agenda here will tie into the environmental agenda.
Pandemic was the word for 2020. Change is the word for 2021.
Happy New Year. Keep staying safe.
Penfield W. Tate III is an attorney in Denver. He represented Park Hill in the Colorado House of Representatives from 1997 to 2000, and in the State Senate from 2001 to February 2003. He lives in Park Hill.