Big City Park Meeting Feb. 22
Denver Parks and Recreation will review its current City Park Master Plan on Saturday, Feb. 22. The public – especially users of City Park and everyone who cares about the park, which is just west of Park Hill – is invited and encouraged to attend. This is your chance to provide the city's Parks & Recreation department with feedback. The meeting if from 10 a.m. to noon at the Museum of Nature and Science, inside the park at Colorado Boulevard and Montview. Here is a PDF link to the City Park Master Plan: tinyurl.com/CityParkMasterPlan
Get Your Free Culture Here
Arts and science organizations across Denver offer free days all year, in which they open their doors and welcome patrons to check out the regular exhibits at no cost. The following are free days in February and March. For more, check out scfd.org/find-culture/free-days/.
Free days at the Denver Museum of Nature and Science are Feb. 10 and Feb. 23, from 9 a.m. to 5 p.m. e museum is in City Park, just west of Park Hill at 2001 Colorado Blvd. On these days patrons can enjoy the regular museum exhibits, as well as free admission to "Extreme Sports: Beyond Human Limits," and discounted admission to "The Science Behind Pixar." Check out dmns.org for more. Free days at the Botanic Gardens, at 1007 York St., are Feb. 17 and March 22, from 9 a.m. to 5 p.m. Free days at the Denver Art Museum, downtown on Bannock between 13th and 14th avenues, are Saturdays, Feb. 1 and March 7 from 10 to 5 p.m. Free general admission tickets are available on-site starting at 10 a.m.
Rosa Parks On Tour
Actor and scholar Becky Stone will portray Rosa Parks in six Denver Metro area presentations from Feb. 23 to March 3 as part of Colorado Humanities' Black History Live tour. This living history portrayal will give insight into how and why Rosa Parks prepared for her pivotal act of resistance. "There had always been an uneasy truce between black and white folks in the South," says Stone. "Emancipation granted citizenship to black Americans, but white Americans ended all progress by returning to slave-master protocol that was enforced by Jim Crow laws. These laws went beyond segregation. They were designed to make black people feel inferior and whites, superior. By 1955, black Southerners had been oppressed as much as they could allow. They needed the right person to say 'no more.'  That person was Rosa Parks."
The following five programs are free and open to the public:
• Feb. 27, Koelbel Library, 5955 South Holly St, Centennial, 6 p.m.
• Feb. 28, Windsor Gardens Community Center, 595 South Clinton Street, 10 a.m.
• Feb. 28, Bemis Public Library, 6014 Datura St., Littleton, 2 p.m.
• Feb. 29, Aurora Central Library, 14949 East Alameda Pkwy., 10 a.m.
• March 3, Community College of Aurora, 16000 E. CentreTech Pkwy, 12:30 p.m.
Let Justice Roll
World-renowned composer and teacher Mark Miller will appear at Montview Boulevard Presbyterian Church on Sunday, Feb. 2, to lead a worship presentation of his work, "Let Justice Roll" for choir, gospel band and narrator. The 12-minute work sets Reverend Martin Luther King Jr.'s famous "Letter from the Birmingham Jail" to music blending gospel, soul and classical. Miller will also deliver a short homily about the work, as well as leading an hour-long Adult Education presentation titled "Music, As An Act of Resistance," delving into his career writing music as an agent for social change. Miller is the assistant professor of church music at Drew Theological School and is a lecturer in the practice of sacred music at Yale University. The free presentation is from 8:30 a.m. to 11 a.m. at the church, 1980 Dahlia St.
Walk Back In Time
The National Association of Colored Women's Club, Inc. and Youth Affiliates of the City of Denver are holding a fundraiser on Saturday, Feb. 8. Proceeds of the event, "A Walk Back Into Time and Beyond," will benefit the two organizations. The fundraiser is at Hope Center, 3475 Holly St. from 10 a.m. to 3 p.m. Tickets are $10. Call 720-422-1957 for more information.
Popular Vote On Tap
The National Popular Vote would guarantee the presidency to the candidate who receives the most popular votes across all 50 states and the District of Columbia.
Join the Denver County League of Women Voters and Colorado State Sen. Mike Foote to learn more about the campaign to ensure that every person's vote for the presidency is equal. A forum to discuss Colorado's new popular vote law is Feb. 27, from 6:30 p.m. to 7:30 p.m. at the Woodbury Branch Library, 3265 Federal Blvd.
The National Popular Vote bill has been enacted by 16 jurisdictions possessing 196 electoral votes, and will go into effect when enacted by states possessing a majority of the electoral votes—that is, enough to elect a president (270 of 538). Colorado legislators approved the National Popular Vote bill in the 2019 session, and Gov. Jared Polis signed it into law on March 15, 2019. Last August, opponents turned in sufficient signatures to repeal the bill, and Coloradans will vote on the issue in November.
Active Minds Events
The local organization Active Minds regularly sponsors forums to discuss topics of current event and historical interest. The gatherings are free of charge, and unless otherwise indicated, do not require an RSVP. The following are several forums that are scheduled at nearby venues during February.
Space Exploration: From the Moon Landing to Today and Beyond
Tuesday, Feb. 4, from 10 a.m. to 11 a.m. at the Jewish Community Center, 350 S Dahlia St.
The Civil Rights Act of 1964
Saturday, Feb. 8, from 1 p.m. to 2 p.m., at the Denver Public Library downtown, 10 W. 14th Ave. Pkwy.
The Mayans: History, Culture, Art, and Science
Wednesday, Feb. 12, from 2 p.m. to 3 p.m. at the auditorium at Heather Gardens, 2888 S. Heather Gardens Way.
New Orleans: Biography of a City
Thursday, Feb. 13, from 1 p.m. to 2 p.m. at the Sam Gary Library, 2961 Roslyn St.
Climate Change and U.S. Withdrawal From the Paris Climate Accord
Thursday, Feb. 20, from 2 p.m. to 3 p.m. at Windsor Gardens, 597 S. Clinton St.
Chicago: Biography of a City
Tuesday, Feb. 25, from 5 p.m. to 6 p.m. at the Tattered Cover, 2526 E. Colfax Ave.
The Civil Rights Act of 1964
Thursday, Feb. 27, from 6:30 p.m. to 7:30 p.m. at Sam Gary Library, 2961 Roslyn St.
Greater Park Hill Events For February
Monthly Community Meeting
Thursday, Feb. 6 at 6:30 p.m., GPHC office and community room (2823 Fairfax St.)
A typical monthly meeting agenda includes community introductions, presentations by organizations, and concludes with board business. The purpose is to relay pertinent information to Park Hill residents and also for the board of the Registered Neighborhood Organization to discuss and vote on various issues. Sign up for regular monthly notification and the meeting agenda at greaterparkhill.org.
Recycling, Composting and Trash
Wednesday, Feb. 26 at 6:30 p.m., Park Hill Branch Library (4705 Montview Blvd.)
Denver Recycles will present on the City's services for recycle, compost, and trash collection in addition to seasonal programs and events. We will discuss how Park Hill can help promote best recycle and compost practices and reduce waste. 
Emergency Food Programs
Mondays and Wednesdays from 10 a.m. to 1 p.m., GPHC office (2823 Fairfax St)
Serving anyone with a Park Hill address. For more info, check out the food programs section at greaterparkhill.org
The following is a list of items that are currently needed (drop off at the office, or at Cake Crumbs on Kearney, or the Park Hill Branch Library at Montview and Dahlia):
• Cereal (hot and cold)
• Coffee & Tea
• Canned Fruit
• Toiletries (full or travel sized)
• Individually packaged snacks
Colorado: A History Of Horticulture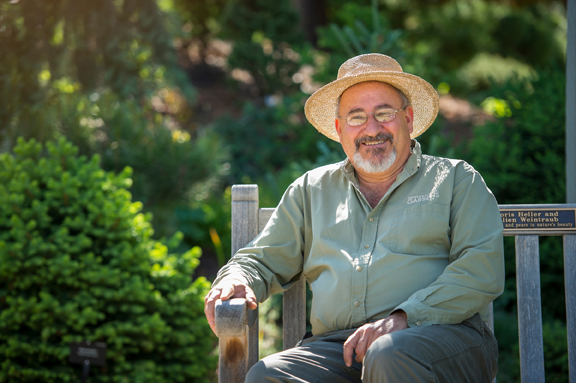 Panayoti Kelaidis, senior curator and director of outreach for Denver Botanic Gardens, will present "A History of Horticulture in Colorado" at City Park Friends and Neighbors Feb. 4 meeting. The free presentation is from 6 to 8 p.m. at Messiah Community Church, 1750 Colorado Blvd.
"Although horticulture in Colorado has hundreds if not thousands of years of history among our first peoples, the gardening we practice was essentially a graft from European stock–primarily the Netherlands," Kelaidis says. "The two towering figures who have probably influenced our planting philosophy more than anyone were Dutchmen who launched their careers a century ago: Saco DeBoer and M. Walter Pesman who were both landscape architects, writers and gardeners. Their work shaped most of Denver's parks, parkways, schools and the neighborhoods around Park Hill and especially City Park."
DeBoer designed City Park's Lily Pond and the DeBoer Canyon and Waterway. Kelaidis' presentation kicks off the upcoming art installation at City Park titled "Color Field at the Lily Ponds," a project conceived by Denver artists Sarah and Josh Palmeri that will include 6,000 painted gardening stakes installed at the seedbeds of the currently drained historic Lily Pond southwest of the Denver Museum of Nature and Science. The installation aims to recall the history and beauty of the pond area while building momentum for current plans to restore the historic area.