The Murder Of George Floyd Sparks An Extraordinary Month, Punctuated With Protests Against Racial Injustice, Police Brutality and In Colorado, Historic Reforms
On May 25, George Floyd was murdered by four police officers in Minneapolis. Police confronted him on the suspicion of using a counterfeit $20 bill to buy a pack of cigarettes. He may or may not have done so. But now he is dead. He was cuffed with his hands behind his back, thrown to the ground, with a knee to the middle of his back and, fatally choked out with another knee to the neck.
Numerous bystanders, Black and white, recorded the entire encounter and urged the police to get off Floyd. Their comments tell the story: "He ain't moved yet." "He's Black, they don't care." "If it ain't their people they don't care." "Get off of his neck." And, "Check his pulse" – the bystanders could clearly see that Floyd was slowly but surely slipping away from this life. They called the police "bums" and remarked, "Did they just kill him?" They challenged one of the officers: "Are you just going to let them kill him?" The police told the bystanders to move away.
All the while, Floyd gasped, "I can't breathe." He called for his deceased mother.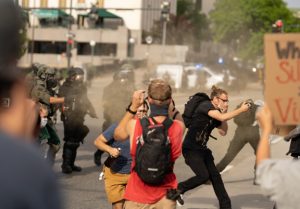 Paramedics responded to the scene. They did not treat Floyd on site, although he was clearly unconscious and in distress. They placed him on a gurney with his hands still cuffed behind his back, without the use of a neck brace, never checked his vitals and rushed him into an ambulance.  Like they were fleeing the scene of a crime – which they were.   All of this was recorded on video. Floyd died shortly thereafter.
Within eight days, all the officers were in custody and charged with crimes by the state attorney general. One was charged with 2nd degree murder and the other three were charged with aiding and abetting the commission of 2nd degree murder.
These crimes have changed the arc of our society and the current political environment. If you ever believed that we were a colorblind society, you have now been disabused of that fallacy.
'We have had enough'
Evoking memories of Vietnam era anti-war and 1960's civil rights protests, the last month has seen all 50 states experiencing civil unrest. Thousands of people turned to the streets over multiple days in Denver, Atlanta, Los Angeles, Chicago, Minneapolis, Detroit, Philadelphia, Washington, D.C. and New York. Denver experienced more than 15 straight days of protest – from large uprisings downtown to pockets of demonstrators gathering nightly at Colorado and Montview boulevards and on South University Boulevard. There has been some looting and lawlessness, but even the most ardent critics concede that the vast majority of protesters have been nonviolent.
Protestors are all ages, multi-racial and diverse. They have chanted, holding signs reading, "Black Lives Matter," "Defund the Police," "No Justice No Peace." With fists raised high, their message is one of passion, emotion, anger, and clarity: "We have had enough of police killing unarmed Black men."
Denver police and the city administration initially responded with a show of force: tear gas, pepperballs and an 8 p.m. curfew, but those efforts proved wholly ineffective. The city eventually capitulated and let the protestors have the streets, with minimal efforts to contain them. Some police in Denver and many other cities eventually joined with protesters, taking a knee with them and committing to make significant reforms in how policing occurs in America, especially in Black communities.
Even more surprisingly, this same scene played out around the world. When was the last time you saw people in other countries protesting injustice and human rights violations in the U.S? When was the last time you saw nearly every major corporation and business in this country issue public statements and press releases decrying systemic racism in America and echoing the chants of the protestors, "Black Lives Matter"?
'We can unite without him'
Rather than acknowledging the outpouring of the massive support for change, President Donald Trump reacted in a fashion that shocked some supporters and employees. Calling himself "your president of law and order," Trump threatened to invoke the Insurrection Act of 1807.
Doubling down, from the White House he sent in the military to quash a peaceful protest with tear gas, rubber bullets and flash grenades so he could walk across the street for a photo op. To hold a bible, and as he said, not his bible, just a bible, in front of St. John's Church, a church he had never visited.
The rebuke was swift and unmistakable.
Trump's former Secretary of Defense James Mattis called Trump "the first president in my lifetime who does not try to unite the American people – does not even pretend to try. Instead he tries to divide us." Said Mattis: "We can unite without him."
Current Secretary of Defense Mark Esper also offered up criticism over using U.S. troops to confront protesters, and Trump's appearance at the church.
Former Trump chief of staff John Kelly weighed in: "There is . . . an awful big concern that the partisanship has gotten out of hand, the tribal thing has gotten out of hand." General Colin Powell announced he will not vote for Trump. Conservative columnists George Will and David Brooks denounced him as well.
Trump's tone-deafness in the wake of the remarkable sea change underway, has continued. Meanwhile, Democratic presidential candidate Joe Biden likens the current state as "some of the sternest challenges our nation has ever faced. "[Donald Trump] has no idea . . . the depth of the pain that so many people are still enduring . . .completely oblivious to the human toll of his indifference."
Groundbreaking police reforms
While this surreal scene has unfolded in Washington, amid the contest of a presidential election, the Colorado legislature swiftly responded, passing groundbreaking legislation for police reforms that will likely be replicated elsewhere.
Senate Bill 20-217 passed on a bipartisan basis that spoke volumes, with a final vote in the Senate of 35-0 and final vote in the House of 52-13. The following are a few of the major provisions.
By July 1, 2023, all law enforcement agencies in the state (police departments and the state patrol) who have contact with the public are required to wear body cameras, or dash cameras in their vehicles. The body or dash cameras must be active any time an officer has contact with the public except to avoid recording personal information. If the camera is not activated or is tampered with there is a rebuttable presumption that statements allegedly made by a suspect are inadmissible in court.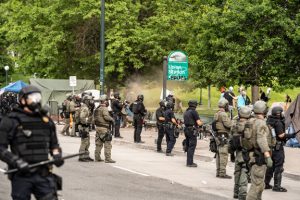 If it is determined that the officer intentionally either tampered with a camera or intentionally did not activate the camera, the officer is subject to discipline up to termination and permanent revocation of the ability to serve in law enforcement. Any allegation of inappropriate conduct would result in the public release of the unedited video and/or audio within 21 days.
Also beginning July 1, 2023, the Division of Criminal Safety will prepare annual reports disclosing instances where the use of force has resulted in death or serious bodily injury.
The reports will include many data points but key among them are: the date, time and location of the use of force; the perceived demographic information of the person contacted; the names of all officers involved regardless of whether the officer used the force; the type of force used and the severity and nature of the injury, including if an officer was injured; whether the officer was on duty; whether the officer unholstered a weapon and/or discharged the same; if the use of force resulted in an internal investigation; and if the person contacted filed a complaint and the resolution of the complaint. The reports will also share if an officer resigned while under investigation.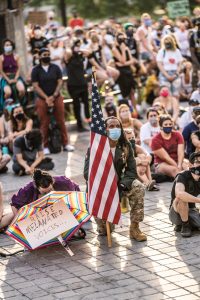 Understanding that the use of force is not the only issue with policing, the reports will also include detailed information about law enforcement contacts, including the date, time, location and duration of the stop, the reason; the perceived demographic information of the person stopped, the outcome of the stop and other critical details including whether an arrest was made and if a search occurred. Similar information will now be required for all no-knock residential entries.
Additional provisions of the bill prohibit law enforcement from using pepper spray and tear gas during protests or demonstrations without first issuing an order to disperse that can be heard and obeyed. The bill subjects police officers to personal liability and removes the defense of immunity for improper use of force. The use of chokeholds is banned. Circumstances warranting the use of deadly force are significantly limited, and officers have an affirmative duty to prevent a colleague from using excessive force and reporting instances of the same.
The A-ha moment
Since the murder of George Floyd, I have had several conversations with friends, business colleagues and acquaintances about the inequities in our society, especially around policing in the Black community. I have shared my experiences of being stopped for "driving while Black" and being questioned for "shopping while Black." I have explained how I and my friends and relatives grew up knowing that we never had the benefit of the doubt, and how we had to handle ourselves cautiously around the police – even though we knew we had not done anything wrong.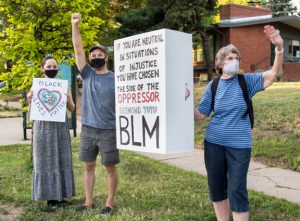 I could tell, now that they've seen the horrifying video of George Floyd's murder, followed by Rayshard Brook's subsequent murder by police in Atlanta, these friends are now hearing me differently. It's been an "A-ha" moment – the realization, backed by objective data, that my experiences were likely true. I, like so many other Black men who have grown up in America, am not paranoid.
Finally, let's all thank Colin Kaepernick. Remember him? Three years ago, the NFL quarterback peacefully protested the killing of unarmed Black men at the hands of police by kneeling during the playing of the Star-Spangled Banner at football games. For that, he was fired from his job and lost his career. For a peaceful protest and constitutionally protected free speech. Just think where this country would be now if we would have seriously listened, and addressed the problem then.
Enjoy your summer. Black Lives Matter.
Penfield W. Tate III is an attorney in Denver. He represented Park Hill in the Colorado House of Representatives from 1997 to 2000, and in the State Senate from 2001 to February 2003. A former candidate for mayor of Denver, Tate's opinion column returned to these pages in December. He lives in Park Hill.