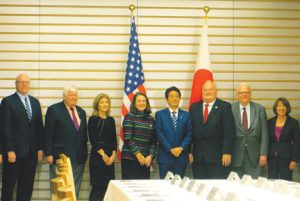 Rep. DeGette: Japan Recognizes Need To Change Processes
As Japan comes under increasing scrutiny of its foreign trade practices, Rep. Diana DeGette says the country's leaders realize they have to change the way they deal with global commerce.
DeGette, a Denver Democrat, is an acknowledged expert on trade between the United States and Japan, and is currently co-chair of the Congressional Study Group on Japan. Recently back from leading a delegation there, she sat down for an exclusive Greater Park Hill News interview to talk about her latest meeting with Japanese government ministers.
"International trade is an extremely complex issue," DeGette says. "The Japanese recognize that they need to change processes because that's the only way to make the progress necessary. Tariffs have to go down, and policy agreements have to be revised if we are going to get to a level playing field."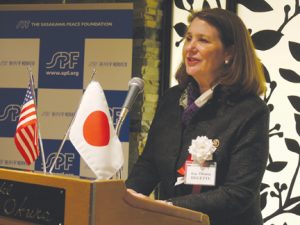 Japan is one of the 12 negotiating participants in the highly controversial and secretive Trans-Pacific Partnership. The TPP, with 29 chapters, is a "free trade agreement" among the U.S., Australia, Brunei, Canada, Chile, Japan, Malaysia, Mexico, New Zealand, Peru, Singapore, and Vietnam.
"I believe our message of leveling the playing field is getting through," says DeGette, who was elected to a 10th term in November. "We've had good success, and I am encouraged by recent conversations about how Japan needs to restructure. We have to make sure that (Japanese) Prime Minister (Shinzo) Abe is looking forward."
United Auto Workers Political Director Josh Nassar describes Japan as "the most closed market in the world." The principle issues to be overcome are the nearly $80 billion trade deficit with Japan, and the country's notorious practice of currency manipulation.
At its most basic level, DeGette describes trade deficit as a situation where one country (the United States) imports more than it exports. This is starkly evident in the automobile industry. UAW immediate past President Bob King, in a white paper to Congress, noted that the "Big Three" U.S. automakers sell fewer cars in Japan in a year than Japanese car companies sell in one day in the United States.
"Even if the provisions of the Trans-Pacific Partnership 'Free Trade Agreement' were to require a four-fold increase in U.S. auto exports to Japan, the deficit in U.S. net auto exports to Japan would be reduced by less than one percent," says King. For every vehicle the U.S. exports to Japan, that country exports 130 vehicles to the United States.
DeGette says the trade deficit is a drain on private business capital, which in turn, manifests as a decline in U.S. production and jobs.
"American consumers want good business opportunities, and American businesses want to sell overseas," she says.
A system of small farms
The congresswoman also says Japan needs to find a way to continue to protect its domestic agricultural interests.
"Japanese agriculture is based on a system of small farms, with typically high tariffs and other trade barriers," she observes. "Prime Minister Abe's LDP (Liberal Democratic Party) gets most of its support from rural areas."
This means that, under the "level playing field" construct, it would be very difficult to harmonize Japanese imports of Colorado agricultural products, the state's primary export.
DeGette also acknowledges that some of Prime Minister Abe's behavior recently has been unfortunate. On the 70th anniversary of the end of World War II, Abe seems to be, in DeGette's words, "walking back" on Japan's apology to the hundreds of thousands of Korean "Comfort Women" who were enslaved by the Japanese during the war.
Abe also came under sharp criticism for visiting the shrine honoring some Japanese war criminals.
Abe is reportedly planning to visit the U.S. in May, and possibly speak to a joint session of Congress.
"If the Prime Minister speaks on strategic issues, it would be a great symbolic moment" says DeGette.
20th anniversary of NAFTA
In addition to its trade protectionism, another area of concern is Japan's long history of currency manipulation. Basically, by changing the value of its currency, the yen, Japanese products are cheaper in the U.S, while those from the U.S are more expensive in Japan.
According to data from the Communications Workers of America, this manipulation has cost the U.S. 896,000 jobs in the past 30 years. These jobs range from manufacturing to services and technical occupations.
Last year was the 20th anniversary of the North American Free Trade Agreement. A national coalition of over 600 environmental, human rights, social, religious, trade, political, and labor organizations point to the failures of NAFTA in criticizing the Trans-Pacific Partnership.
Again, according to the CWA, Colorado has lost 70,700 jobs to NAFTA and trade with China. Nationally, the job loss is 3,837,200.
Former Labor Secretary Robert Reich supported NAFTA. But he now acknowledges the damages that so-called "free trade" deals have caused.
Currently, opponents are in what UAW's Nassar calls "a pitched battle" to defeat a process known as Fast Track (or Trade Promotion Authority). Fast Track would allow the President to conclude the Trans-Pacific Partnership without involving Congress. The legislative branch would be surrendering its authority to regulate for foreign trade. Politicians and activists of all persuasions are opposing Fast Track.
DeGette herself declared her opposition to Fast Track early in the process, and reiterates that position now.
"Fast Track is an abrogation of congressional authority," she says. "I always look at what's best for the First District and Colorado. I won't vote for any trade deal that results in job losses or environmental degradation."
DeGette has supported some trade deals, including those with Korea, Peru, Singapore, and Chile. She has rejected others, notably the Central American Free Trade Agreement (CAFTA).
DeGette also supports assistance to workers who lose jobs due to globalization.