From Phantom Music To Unexplained Foot-Stomping, Park Hill Filled With Stories Of Paranormal Activity
By Rebecca Zimmerman
For the GPHN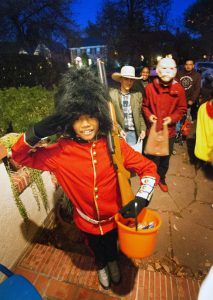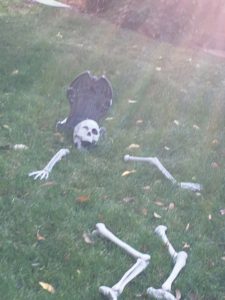 As the shadows of autumn grow longer and a chill permeates the smoky air, as always our neighborhood collectively awaits the Halloween season with much anticipation.
Over the years, we've cultivated a citywide reputation for celebrating like no one else. We hand out full-size candy bars, put up unparalleled outdoor decorative displays featuring dry ice and animatronic monsters, and attract carloads of eager trick-or-treaters from across the metro area.
The COVID-19 pandemic has changed the way we will observe All Hallows' Eve in 2020, but it has not dampened Park Hill's love of the macabre. And just as they have for decades, our own neighborhood ghosts and legends will be here to send a chill down our spines.
Spooked dogs and shattered mirrors
Elizabeth Hall lives in a particularly spiritually active 1949 ranch on Niagara Street. Over the last decade, she says her ghostly cohabitants have moved large, potted plants late at night, shattered mirrors, played phantom music, and spooked dogs, children, and house sitters.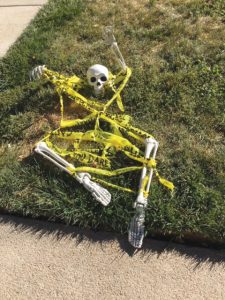 Once, she was on the landline phone with a friend telling them about the paranormal occurrences. "My friend told me that I should politely ask the ghost to leave," Hall says, "so I said, 'You want me to politely ask the ghost to…' and the call disconnected!" Hall and her friend tried to call each other back several times but were stopped by a disconnect and dial tone. Hall doesn't know if her house has a haunted history but plans to do some research.
In a recent Facebook post, she said she doesn't much mind her spectral roommates, "Although I do still get freaked out every once in a while."
Visit from the Evans sisters
Spooky phenomena has also transpired at the graceful, 115-year-old Park Hill home of Kelli Theis.
She recalls "benign paranormal activity" from the time she and her family moved in, and Theis says the haunting ramped up considerably when her family made renovation plans. When they began restoration of the third floor, mysterious stomping and door slamming became frequent occurrences. When the remodel was completed, the noises promptly stopped.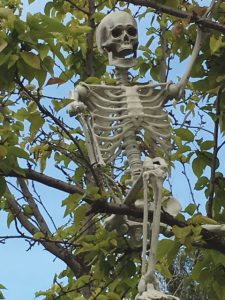 "We are honored to live in a house built in 1905 and we always maintained that we were all about making sure we honored the heritage and architectural integrity of the house," Theis says. "Once our ghosts saw that we were true to our word, settling into a period roughly of the 1920s for decor and design (with most of our furniture of the period or before), they settled down and we haven't heard from them since. I have happy ghosts."
Theis had the fortunate opportunity to find out some of the history of her house when years ago, two elderly ladies calling themselves "the Evans sisters" pulled up. They explained to Theis that they had grown up in the home in the 1930s to 1950s and burst into tears when they saw the front hall had not changed since last they saw it.
The Evans sisters were also the bearers of creepier news. Not only had their grandmother died in the house, there was the death of a butler in the basement. "There were probably others, times being what they were," Theis says.
Melancholy nursery rhymes
Last October in these pages we shared the tale of the haunting of McAuliffe International School in the historic Smiley Junior High building at 26th and Holly. Nearly six decades ago, a United Airlines passenger jet crashed during landing at nearby Stapleton Airfield, now the site of the Central Park neighborhood. Eighteen souls were lost in the tragedy.
Smiley Junior High served as a makeshift morgue for the dead. A young mother who had been flying back to Colorado from a wedding in Pennsylvania and her three small daughters were among those killed.
In the years since, students and staff whisper of witnessing chilling sights and sounds, including a human figure lurking in one of the bathrooms.
One predawn morning three Septembers ago, hours before anyone else would have entered the building, the school's facilities manager was on the third floor when he heard a disembodied female voice singing melancholy nursery rhymes. He recorded the voice on his phone to share with the other staff members. Could the otherworldly song be the voice of the young mother killed in the 1961 crash of United Flight 859?
"We thought maybe she had been singing to the little girls to calm them as the plane crashed," Tammy Pittman, McAuliffe's office manager, told GPHN last year.
Bathed in blue glow
The paranormal activities at McAuliffe are not the only ones attached to a local landmark. Montview Boulevard Presbyterian Church, on Montview at Dahlia Street, has served as a spiritual home for generations of Park Hill families, witnessing their births and deaths, hopes and tears, since it was built in 1910.
In 1918, Montview built a new sanctuary, bathed in the blue glow of gothic stained-glass windows and filled with the pipes of a grand organ. As the congregation continued to thrive and grow, this chamber, now a theater space called the Miller Center, was replaced with the larger, current sanctuary in 1958. Some believe that shades of the Miller Center's past as a sanctuary linger today. And there may be a picture to prove it.
A longtime Montview sexton was in the backstage area several years ago, taking a reference photo of one the pews. Although the pew was empty when the photo was snapped, the actual picture was blurred and shows what appears to some to be a boy sitting in the pew.
The photo, below, was graciously shared with the GPHN so that readers may make up their own minds: ghost, or digital aberration?