These are times, as old Thomas Paine would say, that try everyone's souls. But amid the challenges brought about by a sudden upending of life, amid the tremendous sadness of lives lost in a pandemic, there are opportunities for celebration and for joy.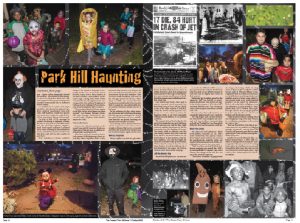 Witness the alternative ways that graduates and their pals are celebrating big milestones this year. All over the neighborhood, parades and physically distanced lawnchair parties have taken the place of packed auditoriums and pomp and circumstance. And guess what? The achievements are still there; the pride is real.
Even in rough times, we can still witness neighbors helping their neighbors. This month, I'd like to highlight a couple of ways how, to this end, Park Hill has long been and will always be at the top of its game.
Let's start with the newspaper you are holding in your hands. For us and most other advertising-based publications, the past several months have been even more challenging than usual. Simply, the Greater Park Hill News relies on advertisers to support our existence. Most of our advertisers are independently owned businesses that have been hit hard by the pandemic. Many have either closed temporarily or have been forced to drastically alter their business model.
Bottom line, we anticipate losing as much as 40 percent of our monthly advertising revenue, at least for now and in the months to come. And this is, more than ever, a time when people are looking for critical local news coverage.
It's safe to say that our newspaper manager, Melissa Davis, is creative when it comes to meeting challenges. She spearheaded a campaign to give local businesses that are currently doing well (think liquor stores and cannabis dispensaries) the opportunity to help subsidize businesses that are not doing well (think restaurants and gyms).
The campaign – Neighbors Helping Neighbors – creates advertising grants that can be applied to support struggling businesses. Not surprisingly, Mayfair Liquors – which has been supporting the community and serving the area for 61 years – signed up on the spot. Check out their ad on page 14, and make sure to thank them for stepping up, the next time you stop in for a bottle of bubbly. We'll make sure to let you know as other local businesses join the campaign, as they can, to embrace their neighbors as part of this cool effort.
Here's another story about teamwork. Last year, longtime Park Hillian Rebecca Zimmerman pitched an idea to write about our neighborhood's tradition celebrating Halloween in a big way. Rebecca's resulting story hit all the right chords – mystery, tragedy, ghosts, candy. Contributing photographer Reid Neureiter sent over a bunch of pictures of trick-or-treaters swarming the neighborhood. Mark Silverstein joined the action, contributing creepy spider and spiderweb photos to help set the scene. Our talented art director, Tommy Kubitsky, took all these elements and whipped up a design for a feature story that perfectly captured Park Hill at Halloween.
Last month we learned the design won second place in the prestigious Top of the Rockies regional journalism contest.
Also last month we were notified that Reid won an impressive second place for his portfolio of Greater Park Hill News photographs in the Colorado Press Association's annual competition. Readers most certainly cannot be surprised by this news. Whether Reid is shooting from a mountaintop surrounded by goats, or from a field of giant sunflowers, or from the thrill of a basketball court or from underneath a blur of bicycles, his images are stunning.
Our journalism awards are always made even sweeter given that we compete against much larger daily and weekly news organizations in Colorado. As with all our contributors, Reid and Mark and Rebecca, and so many others, shoot and write for the newspaper out of a love for Park Hill and a commitment to community journalism.
We are lucky to have them. We are lucky to live in Park Hill.