Finding Wildlife, Radiance, Solitude At Rocky Mountain National Park 
Story and photos by Reid Neureiter
For the GPHN
Living in Park Hill, we sometimes forget that we are just a short 90-minute drive from one of our national treasures: Rocky Mountain National Park. According to the National Park Service, Rocky Mountain was the third most visited national park in 2018, with 4.59 million visitors—behind only the Great Smoky Mountains National Park and the Grand Canyon.
Perhaps those 4.59 million visitors are part of why many Denverites are not regular visitors to the pristine mountain wonderland west of Estes Park. Stories of long entrance waits, full parking lots and crowded trails can be discouraging when communing with nature is the goal.
But with summer over, there are good reasons to take a fall trip to visit the 358-square miles that spans the Continental Divide from Estes Park to Grand Lake, which Congress set aside as America's ninth national park in 1915.
School is back in session. Summer crowds have dissipated. Wildlife is abundant, and with hunting banned in the park, large animals are not skittish around visitors.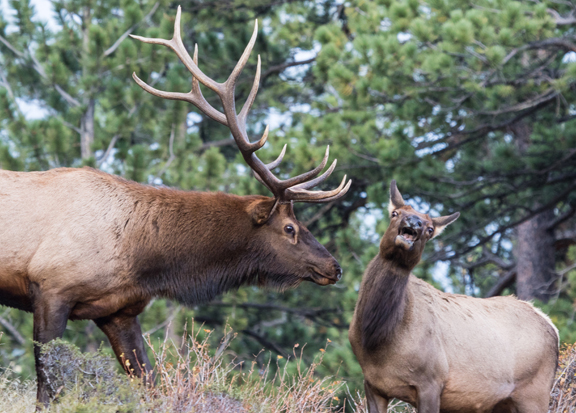 In September and October, the elk are in rut. If you visit the Moraine Park area at dusk it is almost guaranteed that you will hear and see the bugling of huge antlered bulls as they seek to attract and maintain their "harem" of cows.
Through early October, the aspen leaves are changing to their golden yellow, orange and red colors, a remarkable palette for any photographer. And, before the snows come, Rocky Mountain National Park presents some of the most beautiful, well-maintained hiking trails anywhere in the United States.
One such trail is the 9-mile out-and-back footpath to Sky Pond, which terminates at an alpine lake, 10,900-feet in altitude. Trekkers are rewarded with remarkable views of 13,153-foot Taylor Peak and the appropriately named "Sharkstooth" granite spire, which rises 1,700 feet directly above the surface of Sky Pond. The hike is considered one of the best in the park, in part because it first passes two large waterfalls (Alberta Falls and Timberline Falls) and two other lakes, (Loch Vale and Lake of Glass).
In September and early October, the trail is extra special. The first two miles hikers trek through numerous stands of golden and fiery red canopies of aspen.
Start the hike either at the Glacier Gorge Trailhead or the Bear Lake Trailhead. Parking is at both trailheads, but you may choose to park at the free remote parking area and take a shuttle up Bear Lake Road. Approximately one mile into the hike is Alberta Falls, a 30-foot waterfall cascading down a narrow gorge.
The crowds thin out as the trail continues more steeply upward to Loch Vale, 2.8 miles in. The Loch, at 10,190 feet, is framed by towering walls of granite on either side. The trail gets steeper still, and at the 4-mile mark, hikers reach the 100-foot Timberline Falls. Getting past Timberline Falls requires some serious rock scrambling, using both hands and feet, and may mean getting a little wet. While not a technical climb, it's challenging and some may want to call this the end of the trail and head back.
But those who push ahead will be rewarded first by the Lake of Glass, and a quarter-mile beyond, by Sky Pond and the spectacular Taylor Peak, Cathedral Ridge and the imposing granite Sharkstooth Spire.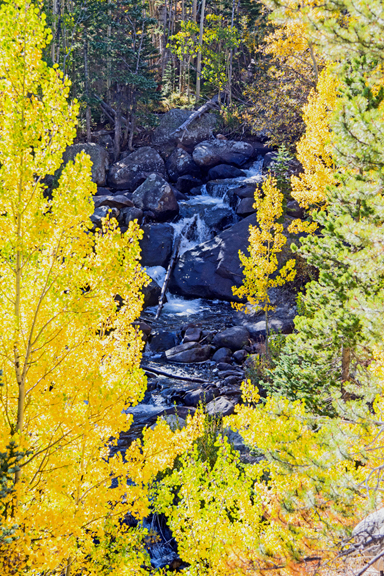 A word of caution: Those hiking in Rocky Mountain National Park, especially in the autumn months, should pay close attention to the weather. Dress in layers and come prepared with gloves, pants and insulated jackets. Carry water, and snacks. If the temperature has dropped below freezing, or if rain or snow is expected, do not go beyond Timberline Falls. The steep rock scramble becomes slick and dangerous under those conditions.
Additional information can be found at rockymountainhikingtrails.com/sky-pond.htm. Trail maps are provided at the Glacier Gorge and Bear Lake trailhead kiosks.