Walkway Depicting The Phases Of The Moon Is Just One Detail In A Remarkable History Of The Bitman-Hower House At 6400 Montview Blvd.
By Cara DeGette
Editor, GPHN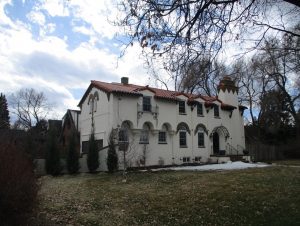 From now until what may as well be eternity, visitors headed up the pathway to the door of the striking Spanish Eclectic-style home at 6400 Montview Blvd. can look down and marvel at the signature handiwork of  notable Denver architect J. Roger Musick.
The decorative red and grey flagstones that lead to the front stoop are laid down in a way that depicts the different phases of the moon — from waxing crescent to full to waning crescent. It isn't clear why Musick adopted this telltale signature nearly a century ago, but similar flagstone walkways have been identified at several other Musick residential commissions, including two nearby properties in the south part of Park Hill and several properties on Ivy Street. The walkway at 6400 Montview has the most elaborate design.
The walkway, of course, isn't the only striking element of the home, officially called the Bitman-Hower House.
In January the Denver City Council voted unanimously to grant landmark status to the home, making it Denver's 352nd local landmark. The home, designed and constructed in 1936, is crafted in the Spanish Eclectic style, with an asymmetrical façade, stucco cladding with decorative brick, a tile roof with multiple levels and an elaborate chimney.
The home's current owner, Rebecca Rogers, worked with Kristi Miniello and her Denver-based Miniello Consulting to extensively research and document its history.
"What I love most about our house is its connection to the past and its historic architectural character," Rogers said. "I can feel the families that loved and lived in this house before us.  I can only hope the families that come after us and call our house home will feel that same connection.
"Our house is an integral part of what makes Park Hill an amazing historical neighborhood. There are not many of these neighborhoods in Denver. It is a rare gem."
The landmark status means that the home must be preserved in as much of its original state as possible.
"I am pleased that the home has been designated a landmark by the city," said Shane Sutherland, preservation chair for Greater Park Hill Community, Inc. "The landmark designation process is an important tool in helping to preserve, enhance, and perpetuate Park Hill's architectural, cultural, and historical character.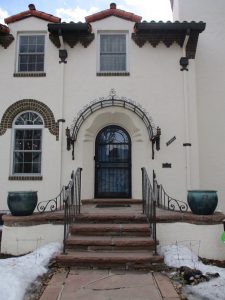 "Protecting Park Hill's older homes from demolition through landmark designation is also important for increasing the sustainability of the neighborhood. The Preservation sub-committee of GPHC, Inc. is committed to helping any owner seeking to landmark their home."
The house "is the only true, two-story, Spanish Eclectic style house along Montview Boulevard within Park Hill and it, literally, signals the end of an era," as noted in the application.
"No other known residential commissions credited to Musick exhibit the Spanish Eclectic style, and it appears to be unique to his design of the Bitman-Hower House, creating a prominent landmark along Montview Boulevard and within the South Park Hill neighborhood. Even within the same neighborhood, Musick's other designs are brick Tudor Revivals that are more in keeping with the other properties along Montview Boulevard."
Generally, homes must meet at least one of three criteria for historic preservation: The structures are architecturally distinct, geographically prominent, and/or past owners have some historical influence.
Musick was the younger brother of another highly regarded Denver architect, G. Meredith Musick. The younger Musick formally trained in New York City at the Beaux Arts Institute of Design. In 1932 he returned to Denver to work with his brother on several New Deal program designs throughout Denver, inc including the addition to the U.S. Custom House, the State Capitol Annex and the Denver Police Administration Building. During the mid- and late-1930s, J. Roger designed homes in Park Hill and in the Crestmoor neighborhood south of Park Hill.
Two other Musick-designed homes in Park Hill are Tudor Revivals at 6230 E. 17th Ave. Pkwy. and at 6401 E. 17th Ave. Pkwy.
The Spanish Eclectic at 6400 Montview was originally owned by Harry M. Bitman, a master builder who was the president of the Home Realty Company and a founding member of Quality Home Builders, Inc. The Hower part of the Bitman-Hower equation is a reference to Clarence M. Hower, who purchased the home from Bitman shortly after its completion.
Hower was a 57-year-old advertising executive originally from Pennsylvania, a man, according to the application, "of medium height and build, with black hair and blue eyes. He and his wife, Minetta (Minnie) who was also from Pennsylvania, had one daughter, Beryl Rosebud."
The complete application, which is filled with the details of the early owners and life in the early part of 20th Century Denver, can be read at tinyurl.com/6400Montview
"If we don't protect these unique older homes, they will be gone forever," said Rogers. "It doesn't matter if the homes are small or large, a single example of architectural style or an intact row of bungalow, we can't recreate this history. They will be lost forever if we don't protect them now.
"I hope my house can be an example of what can be done to protect Denver's past for our future generations."
What's In Your Attic?
How To Sleuth Your Home's Past Occupants; Resources For Seeking Historic Designation
Digging up the past isn't as complicated as it may seem. But it can be time consuming.
Some property records and chain of titles are available via the Denver Assessor's website. However, those records often do not date very far back. A trip to the assessor's office, at City Hall downtown, can help turn up a complete chain of ownership. The Denver Clerk and Recorder also has published a limited number of real estate and other historical documents online.
Colorado and Denver historians Tom Noel and Phil Goodstein have written expansively about the original owners of Denver's old homes. Noel's 2002 book, The Park Hill Neighborhood, includes histories and descriptions of many of the neighborhood's most prominent houses and their owners. Goodstein's book, Park Hill Promise, provides an extensive inventory of the neighborhood's original homes.
The Denver Public Library Western History and Genealogy Department, in the main DPL branch downtown, is an excellent resource. There, you can research people who once called your home, home, as well as getting the lowdown on other notable Denver and Colorado pioneers and trailblazers. The research library at History Colorado, also downtown, is also a great resource, as is anscestry.com.
(During the pandemic you'll want to check to make sure they are open before heading to the library and any government offices.)
Historic Denver is a treasure-trove of information for helping property owners pursue landmark historic designation to forever protect old homes and buildings from the bulldozers. Historic Denver was formed in 1970 when a group of people organized to save the historic Molly Brown House from demolition.
Historic Denver notes that restoring or rehabilitating historic structures often requires planning, a love of challenges, and money. Historic properties can be eligible for preservation tax credits and other incentives, including restoration grants. Read more about funding sources, and a general guide to frequently asked questions, at historicdenver.org/resources/.
If you are interested in pursuing historic designation, contact Shannon Stage at 303-534-5288.
— Cara DeGette