It's Easy To Vote. Just Do It!
By Cara DeGette
Editor, GPHN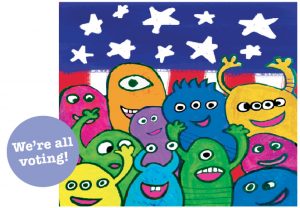 What many are describing as the most critical election of our collective lifetime is officially Nov. 3. But Colorado voters are being urged to start voting after they get their ballots in the mail – and this year they are being sent out as early as Oct. 9.
In Colorado, the presidential race between Joe Biden and Donald Trump has been front and center. So has the U.S. Senate race between Democrat and former Gov. John Hickenlooper, who is challenging incumbent Sen. Cory Gardner in a race that could help determine whether Republicans keep control of the U.S. Senate.
Voters will also pick candidates running for the U.S. House of Representatives, the Colorado legislature, the State Board of Education, the RTD Board of Directors, District Attorney and a bench full of county, district and state Supreme Court judges.
There are numerous issues on the ballot, including statewide and local questions. So get ready to study up! Coloradans will decide whether to repeal the Gallagher Amendment, and will vote on an initiative to reintroduce grey wolves, a tax on tobacco and e-cigarettes for health and education programs, whether to join the National Popular Vote Interstate Compact and an initiative that would prohibit abortion after 22 weeks.
Denver voters will also weigh in on a number of questions, including proposals to raise taxes to pay for programs to address global warming and for people experiencing homelessness.
Ballots are mailed to every active voter in Colorado, so it is critical that your address is up-to-date. Check GoVoteColorado.gov – there you will be able to register to vote and update your voter registration.
In Colorado, Blue Books have been mailed to all registered voters, including in English and in Spanish. The Blue Books include information about all the ballot issues, including "pro" and "con" arguments for each proposal.
There are many sites to drop off your completed and signed ballot, including in and near Park Hill: Hiawatha Davis Recreation Center at 33rd and Holly, the Museum of Nature and Science in City Park, and at East High School.
After you've turned in your ballot, check DenverVotes.org, where you can track it like a package, from printing to acceptance for counting.
Here are important dates to keep in mind:
• Oct. 9 – Counties will begin mailing ballots for the Nov. 3 General Election.
• Oct. 26 – This is the deadline to register to vote or update your registration and still receive a ballot in the mail.
• Nov. 3 – In Colorado, you can register to vote and vote in person up to 7 p.m. on Election Day.
Vote!
Register And Vote. Yes, You.
Think It Makes No Difference? Check This Out.
By Sue Kilgore
For the GPHN
There's a lot of anxiety about voting this year, and Election Day, Nov. 3, feels daunting! In fact, our votes are our most powerful tools. It is ordinary people who will win this election by getting registered and returning their ballots promptly.
It's easy to feel like a single vote, among millions, makes no difference. But especially recently, races have been won or lost by extremely thin margins. In 2000, the entire presidential election came down to Florida, where George Bush won by only 537 votes! Four years ago, Hillary Clinton captured nearly three million more votes nationwide than Donald Trump. But his Electoral College victories in three key states – with only about 70,000 votes – gave him the presidency. In both of those elections, if just a few more people voted, the outcomes, and our life in America, might have been very different.
It's also important to vote all the way down the ballot. State House and Senate, state and local school board, city council, and other contests determine who will make decisions closer to our homes. Often, these are decided by small numbers of voters. But the people who are chosen have significant effects on our day-to-day lives. And don't forget that this year, the election outcome will affect redistricting.
Many people are concerned that the COVID-19 pandemic and the disruptions at the U.S. Postal Service could make voting more difficult, or that their ballots may not be returned in time to be counted. In Colorado, we're fortunate. By registering promptly, and by mailing your ballot, or even better, delivering it to a voting center or drop box as soon as possible, you can be confident that your vote will be counted.
If you haven't registered to vote, there's still time. If you are already registered, make sure your address is updated. Ballots are being mailed in Colorado beginning Oct. 9, however you can still register all the way until 7 p.m. on Election Day at a voter service or polling center. In order to receive a mail ballot, however, you must register no later than Oct. 26. Everything you need to know about registering – including how you can stay safe during the pandemic – can be found at www.GoVoteColorado.gov. Or you can call 720-913-8683 (Denver Elections Division) or 303-894-2200 (Secretary of State) for more information.