Denver In All Its Glitter
Story and photos by Reid Neureiter
For the GPHN
Denver's longstanding tradition is to keep the holiday lights up until the National Western Stock Show is packed up and gone. From Thanksgiving through late January, the city celebrates the season with a variety of light displays.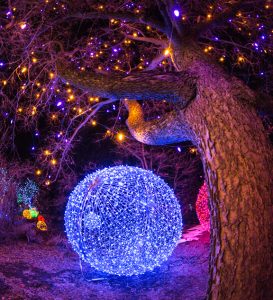 The colorful exhibitions vary from the brightly illuminated Union Station and City and County buildings, to the animated animal light sculptures at City Park's Denver Zoo, to the glowing orbs and glittering trees of the Botanic Gardens. Traditional highlights include the giant shining gorilla at the Denver Zoo's Zoo Lights, and the radiant orange glass Chihuly sculpture at the Botanic Gardens' Blossoms of Light.
There is new competition this year for the title of most fascinating Denver light display. The newest addition is the "Mile High Tree," a seven-story tall, 39-foot diameter conical structure that stands in the Sculpture Park at the Denver Performing Arts Complex, just off Speer Boulevard downtown.
The Mile High Tree, on display through Jan. 31, is 10 feet higher than the tallest Rockefeller Center Christmas tree in history. Free nightly public light shows feature 60,000 LED multi-colored dancing lights that are pre-programmed and choreographed to music. People can even go inside the tree and be mesmerized by its towering, swirling, spinning patterns of light and color. The effect is both exhilarating and dizzying.
The tree was created by Spain-based ILMEX Illumination, a world-leading firm in artistic and decorative lighting, According to VISIT DENVER, the company has created decorative lighting productions in cities throughout the world, including London, Milan, Brussels, Dubai, and Tokyo.
A full list of scheduled light and music shows, activities and performances is at MileHighHolidays.com.