Rocky Mountain Arsenal National Wildlife Refuge Gets Massive Budget Boost For Urban Conservation Programs
Story and photos by Reid Neureiter
For the GPHN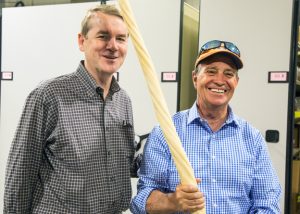 The Rocky Mountain Arsenal National Wildlife Refuge has been awarded a hefty annual $1 million-dollar budget increase, establishing it as a national flagship for urban conservation education.
U.S. Fish and Wildlife Regional Director Noreen Walsh made the announcement on June 12 on the banks of the Mary Lake fishing pond at the Refuge, five miles north of Park Hill. Colorado U.S. Sen. Michael Bennet and Congressman Ed Perlmutter were on hand, along with an enthusiastic crowd of staff and volunteers, including members of the board of the Friends of the Front Range Wildlife Refuges, and representatives of the environmental nonprofit Groundwork Denver.
With a current operating budget of $1.8 million, an additional $1 million every year will allow the Refuge to substantially expand its urban wildlife conservation program. The funds will allow the Refuge to improve infrastructure and support community partnerships.
"We are thrilled to be able to invest additional resources in providing opportunities for diverse local communities to use and enjoy the Refuge," Walsh said. "Our vision is for the Rocky Mountain Arsenal National Wildlife Refuge to be a place where all are welcome, and where visitors can enjoy access to the natural world and learn about our native wildlife."
A special place for many
Perlmutter, who represents Colorado's 7th Congressional District that includes the Refuge, was delighted with the funding increase. The Arsenal, he said, was in competition with other urban refuges around the country.
During his remarks, Perlmutter explained that he had a friendly wager with a member of Congress from the Philadelphia area who was rooting for the John Heinz National Wildlife Refuge at Tinicum, which consists of 1,000 acres of tidal marshland near of the Philadelphia airport on the Delaware River. But Perlmutter proudly noted that the Rocky Mountain Arsenal Refuge encompasses more than 15,000 acres just a stones' throw from Denver's urban metropolis, and is home to whitetail and mule deer, coyotes, a thriving herd of bison, bald eagles, prairie dog towns, and the nation's most endangered mammal, the black-footed ferret. It was, he said, no contest.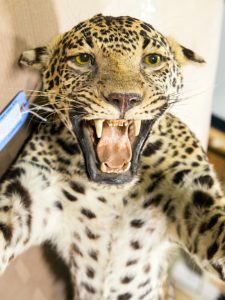 Bennet was accompanied by his wife Susan Daggett, an environmental lawyer and executive director of the Rocky Mountain Land Institute at DU's Sturm College of Law. He praised the Refuge as a "place so special to so many people" and welcomed the funding increase which he said would "help to build relationships to last a lifetime with the outdoors."
Refuge Manager David Lucas said the budget covers the entire Colorado Front Range National Wildlife complex, which includes the Arsenal, the 5,237-acre Rocky Flats Refuge in Golden, and Two Ponds, a 72-acre refuge in Arvada. The Refuge currently has only 12 permanent employees, although that number is augmented in the summer.
Lucas has already begun the hiring process for bilingual staff at the Refuge Visitor Center. During the first year of increased funding, the staff will also invest in infrastructure projects that improve accessibility and connect refuge lands to local communities through pedestrian pathways and nature play areas.
Caring for the eagles
After the announcement, Bennet, Perlmutter and Daggett toured two other unique U.S. Fish and Wildlife facilities on the Refuge grounds: the National Eagle Repository and the National Wildlife Property Repository. The Greater Park Hill News was the only media outlet covering the event.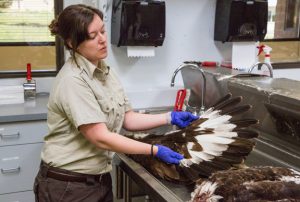 The National Eagle Repository is the place where all recovered dead bald eagles and golden eagles are sent. The eagle carcasses are examined and cleaned by USFW wildlife repository specialists, documented, and then sent to requesting native American tribes for use in cultural or religious practices. It is illegal for any person who does not have a federal permit, or who is not an enrolled member of a federally recognized tribe, to possess an eagle or eagle part — whether it be a head, talon, or even a feather.
Wildlife Repository Specialist Laura Mallory said the repository receives 10 to 15 eagle carcasses a day (approximately 3,000 birds a year). Most are killed by car strikes while the eagles are scavenging road kill, although electrocution or entanglement with fishing lines are also causes of death.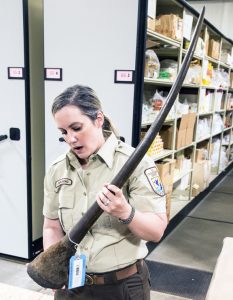 Tribes or tribal members can request either whole birds or parts. The waiting list for a bald eagle is four months, while the waiting list for an immature golden eagle can be years. Golden eagles are rarer than bald eagles and the immature birds are more prized because their feathers are half black and half white.
Home to all animal contraband
The congressional tour then moved on to the National Wildlife Property Repository, a massive 22,000 square-foot warehouse housing all contraband animal products seized by U.S. Fish and Wildlife Inspectors, Customs Agents or other law enforcement personnel.
U.S. Fish and Wildlife's Special Agent in Charge Dan Coil explained some of the many laws governing the import of animal products, including the ban on all ivory that is younger than 100 years old, and the prohibition on the import of most boots and purses made from snake or lizard skins. Coil explained that educating American tourists about the regulations governing the import of animals or animal products into the United States is critical, because tourists sometimes mistakenly assume that if a product is being sold openly in a foreign market it must be legal to bring back to the United States.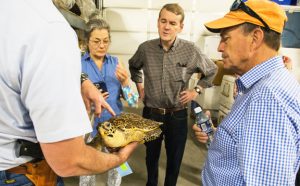 Repository Specialist Elisa Dahlberg displayed some of the more impressive items from the collection, including a seven-foot-long tusk of a narwhal — sometimes called the unicorn of the sea — along with a four-foot-long severed horn from a black rhinoceros, a stuffed pangolin, and shelf after shelf of endangered sea turtle shells.
In accordance with the law, these items are stored in a secure environment. Many may be donated to educational facilities, nonprofit organizations, and conservation agencies to aid in teaching about endangered species and other wildlife. Others items are sent to scientific institutions to be used in research to develop better identification methods to protect wildlife.
The Rocky Mountain Arsenal National Wildlife Refuge is managed by the U.S. Fish and Wildlife Service, whose mission is working with others to conserve, protect, and enhance fish, wildlife, plants, and their habitats for the continuing benefit of the American people. The Refuge is free to the public and open seven days a week from sunrise to sunset, except for Thanksgiving, Christmas and New Year's Day.