Park Hill Neighbors for Equity in Education Forms To Tackle The Big Issues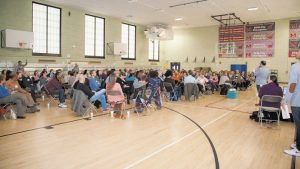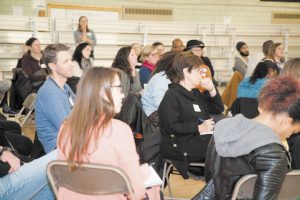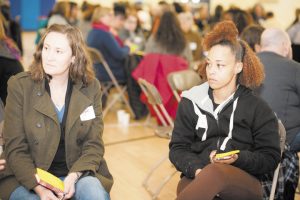 If, on the morning of Jan. 27, you didn't make your way to McAuliffe to participate in the community meeting organized by Park Hill Neighbors for Equity in Education, you missed something big. This was by far the most positive discussion on education I've attended in a decade.
PHNEE is a group of parents and community members who have organized to bring attention to the current state of segregation in Greater Park Hill schools.
More than 150 people attended the meeting, which was headlined Park Hill Past to Present: Diversity, Equity, and Inclusion. Just over half the attendees came from within the Greater Park Hill boundary. A fair number of people from other neighborhoods were also attracted, curious for information and hungry for authentic conversation. A handful of Denver Public Schools employees also came, including downtown administrators as well as principals and teachers from the neighborhood's schools. Board members Jennifer Bacon and Carrie Olson, who both represent Park Hill, listened and participated.
Although the discussions were about serious challenges in Park Hill and Denver's educational landscape, the fact that such a crowd came together was in itself uplifting. Conversations were informative, insightful and respectful.  One could feel, in the large gym, the energy that was waiting to be channeled into potential solutions that would strengthen the neighborhood.
Self-interest and segregation
The meeting opened with presentations by three featured speakers.
Alan Gottlieb, the first speaker, owns a communications consulting firm and is co-founder of Chalkbeat, a national news nonprofit focused on PreK-12 education. He listed the many benefits of diversity, including a synergy that occurs when people from different backgrounds work together. He noted that the best colleges and the best employers look for people who are able to work in diverse environments.
Parents, consequently, should be demanding schools that are more socio-economically diverse, he said. This would be in their best interest. But often self-interest pushes parents to choose schools that are segregated and that offer a level of cultural comfort. These are not in the community's best interest. He advocated for a shift in how some think about "our best interest."
We've been here before
Also speaking was Nita Mosby Tyler, the founder of the Equity Project, LLC, an organization designed to support organizations and communities build diversity, equity and inclusion strategies.
"We've been here before," she said harking back to a local and national history of segregation. She spoke of her childhood, growing up in the South, of the difference between diversity and equity.
"There is no system built in the U.S. that was built with equity in mind," she said.
Mosby Tyler's discussion of the different types of social power drew great interest from a captive audience. We are, she said, often fighting powers that exist because of their rank, title or position and that have the ability of punish or oppress. Head nods rippled through the room.
Although Mosby Tyler did not mention DPS by name, in the group conversations that followed, DPS was often cited as such a power.
Rachel Noel's vision
Former DPS board member Laura Lefkowits gave the attendees a history lesson on school segregation in Denver.
"Rachel Noel was the first African American member of the DPS Board of Education in the sixties," Lefkowits said. "She ran because of inequities in her child's education."
In 1968, the board passed the Noel Resolution, seeking to desegregate Denver's schools. It stated: "Denver Public Schools recognizes that the continuation of neighborhood schools has resulted in the concentration of some minority racial and ethnic groups in some schools and that a reduction of such concentration and the establishment of an integrated school population is desirable to achieve equality of educational opportunity."
The Noel Resolution demanded that the DPS superintendent implement a comprehensive plan to address the situation that it described as "a serious social crisis."
In 1973, the Supreme Court ruling in the Keys v School District No. 1 led to busing across the city. "Schools improved," said Lefkowits, "but enrollment changed. 30,000 kids, mostly white, middle class, were lost in the first decade."
In 1995, when a judge terminated the order, Lefkowits was on the DPS Board of Education. DPS reverted to neighborhood schools and choice. "That's the basis of the system we have today," she said.
In Greater Park Hill, Lefkowits noted, there is a current imbalance in the schools' populations. "We need to return to Noel's vision."
(For details on the history of desegregation and busing in Denver, read Lefkowits' piece in the July 31 issue of the Greater Park Hill News, at greaterparkhill.org)
A neighborhood divided
For all the talk of a desire to "embrace diversity" in Park Hill, data reveals a neighborhood that is indeed divided, racially and socioeconomically.
Enrollment at Park Hill Elementary has substantially increased over the years, while the percentage of students there who qualify for free and reduced lunch (FRL) has decreased to 17 percent. (The FRL qualifier is often an indicator of a higher percentage of poor student populations.)
By comparison, schools just blocks away are at 90 percent FRL (Smith), 88 percent FRL (Hallett) and 62 percent FRL (Stedman) and are seeing various degrees of enrollment decrease.
Is it too late?
Attendees at the meeting were asked to note their fears and hopes for schools. The stressors of the current system were revealed instantly. Here are a few of the responses:
• "The current 'choice' system forces parents and communities to compete instead of collaborate with each other."
• "Not everyone is at the table because they are uncomfortable, feel pushed away, are unaware, or are tired of trying."
• "DPS touts "community process" but does not values those voices."
• "The affluent families won't share resources."
• "White affluent parents [are] pushing students of color out."
• "Is it too late?"
• "Can we build partnerships across Park Hill schools for students, parents, and teachers?"
• "Closure of Stedman, Smith, Hallett."
DPS administrators have not announced any plans to close any of these three elementary schools. Nonetheless, attendees at the meeting discussed the fear that they could be targeted for closure.
The DPS School Performance Framework classifies schools as Blue (Distinguished), Green (Meets Expectations), Yellow (Accredited on Watch), Orange (Accredited on Priority Watch) and Red (Accredited on Probation). On the latest SPF, Hallett is listed as Red (with a score of 29.6 percent), Stedman is Orange (35.6 percent) as is Smith (35 percent). By comparison, Park Hill is Green (70.9 percent).
The fear that gentrification of the neighborhood is an unstoppable force was mentioned more than once.
Desire to serve all children
The comments below show that those attending the meeting want to find solutions to these issues. The notes betray a desire to serve all children equitably for their mental and academic wellbeing:
• "I hope that schools in Park Hill reflect the diversity of the people in the neighborhood for years to come and that the neighborhood remains diverse."
• "All Park Hill kids are served, no matter their cross-streets."
• "Inclusion, diversity, activity and participation from the collective."
A plea from Dominique Jefferson, Hallett's principal, illustrated the current inequitable state of affairs. She made an appeal to the PTA organizations of Park Hill Elementary and McAuliffe International School to partner with the PTA organizations of other schools in the neighborhood.
Per-pupil funding does not promote equity when affluent PTAs can support paraprofessional positions, teacher positions, capital improvements, trips, while others cannot. Some Park Hill PTAs can raise more than $100,000 per year, while others scramble to raise a few thousand, if that. Currently, there is no level playing field. Inequity reigns.
Both the fears and the hopes reflected a strong desire for the conversations started on Jan. 27 to continue. Those wanting to do more were asked to sign-up for a task force that would investigate possible solutions.
Enrollment zones
Both Gottlieb and Lefkowits were selected by the DPS Board of Education to participate in the Strengthening Neighborhoods Initiative committee, which examined the citywide problem of segregation and integration within DPS. In December, the committee made several recommendations including the creation of more enrollment zones.
Enrollment zones differ from school boundaries in that they draw from a larger area and guarantee a student a seat at one of several schools (instead of a guaranteed seat at one specific school). That has meant that, rather than attending the school closest to where they live, students may end up at another school, sometimes outside the neighborhood, miles away.
Greater Park Hill has the population to integrate schools if they are populated by students coming from within the entire neighborhood as opposed to smaller sections of it.
Reality and the greater good
Although some families may be willing to jump into a zone system, others may not want to give up a short walk to the neighborhood school. For such an experiment to work, there would have to be buy-in from the community at large. Or else, resentment may set in.
As long as closure is on the table as a way to mitigate lower performing schools, can anyone ask families to choose a school that might be the target of such a policy?
DPS has streamlined its steps for closure and schools live or die by their performance scores. Families may be willing, even excited about sending their children to more diverse schools. But should parents be asked to step up for the greater good when that decision might end in a school closure that upends students, families, teachers and communities? Gottlieb's presentation didn't address this scenario.
More time in buses and cars
Logistically, this could be a nightmare. Understanding the limitations of enrollment zones, the Strengthening Neighborhoods Initiative committee recommended DPS also explore holding a special election to ask Denver voters to raise more money for transportation. Once neighborhood schools are taken out of the equation, DPS needs to provide buses for students to get to schools that are now farther away.
Do Park Hill residents want their children to spend more time on buses and in cars? Although national politics may be backtracking on climate change, Greater Park Hill joined the Sustainable Neighborhood program with the City and County of Denver last Aug. 2. GPHC reached Outstanding Sustainable Neighborhood status exactly three months later, in record-breaking time. How would more back and forth in buses and cars through a neighborhood already feeling the pressure of increased transportation due to surrounding development affect its sustainability?
Part of the 2000 Park Hill Neighborhood Plan, an amendment to the Denver Comprehensive Plan, includes these two actions:
1) Mitigating the impacts from traffic on residential neighborhoods; and
2) Enhancing the use of alternative modes of transportation.
How would an enrollment zone affect these actions?
Does an enrolment zone come down to busing with choice? And if parents could still choice in and out of schools, would they simply choose to re-segregate in a different pattern?
Are enrollment zones working?
A larger question about enrollment zones needs to be asked. Are they working? Park Hill shares an enrollment zone with Stapleton to the east for its middle schools. Families are guaranteed a seat at one of five schools: McAuliffe, Bill Roberts, DSST Conservatory Green, DSST Stapleton and Denver Discovery School.
In 2017, fully 72 percent of 6th graders at DSST Conservatory Green came from outside the enrollment zone. 58 percent of those at DSST Stapleton choiced in from other regions. 36 percent of those coming to Denver Discovery School choiced in from outside the zone.
Most students came from the Far Northeast section of the city, which has its own enrollment zone.
Given these numbers, could it be that those parents aren't happy with their enrollment zone and seeking choices elsewhere?
It's difficult to disaggregate numbers for Bill Roberts because it is a K-8 school with many students going from 5th to 6th within the same school. Few seats are available for middle school. Only one school seems really popular within our zone: McAuliffe with 88 percent of students coming from within the enrollment zone.
Is the Greater Park Hill Stapleton enrollment zone successful when only one school seems to be popular?
A serious social crisis
If Rachel Noel were still alive, would she look at the state of our schools today and see progress, or would she say we are again – still – facing a serious social crisis?
In the 10 years since Superintendent Tom Boasberg has been heading DPS, the achievement gap between students of color and white students has increased. Also during his tenure, school segregation has increased. Teacher and principal turnover at many schools is high. Many students are being taught by teachers who have little classroom experience. Teachers report often low morale.
Several community organizations, including the local branch of the NAACP, have called the latest Student Performance Framework scores for elementary students inflated and flawed and demanded corrections. Schools are still reported as underperforming and being closed, leaving families scrambling. Meanwhile, DPS continues to approve new charters while overall enrollment is projected to decrease.
Ali Monroe Larson, a PHNEE member says, "We are all failing when we continue the system as it stands today. No one "wins" when entire groups of people are inadequately served and when voices/needs are continually ignored, which I believe is the status quo."
Ally or obstacle?
As Park Hill Neighbors for Equity in Education continues to strategize, organizers ponder the question: Can we achieve Noel's vision in Park Hill? Can this community come together and integrate its schools for the better of all children? And can it be done in a sincere collaboration with DPS, which for all intents and purposes manages all these schools?
If anyone can solve this problem, I believe the community gathered on Jan. 27 can. The energy and hope in the room were palpable.
The question is, will DPS prove to be a true ally, or will it be an obstacle?
Lynn Kalinauskas is chair of GPHC, Inc. To find out about upcoming meetings, follow PHNEE on its Facebook page www. facebook.com/phnee/ or email parkhillnee@ gmail.com.