Celebrating King On His 91st Birthday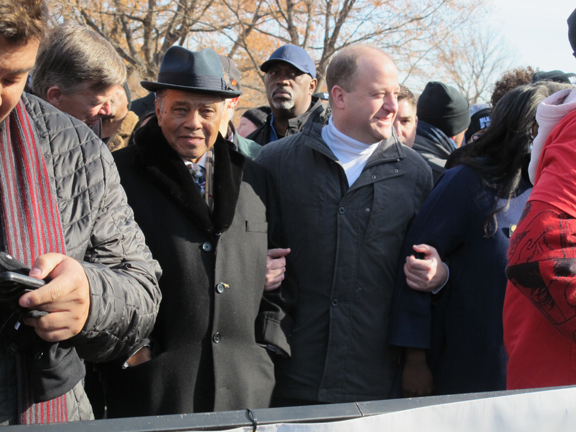 A massive crowd gathered on Monday, Jan. 20 at the base of the Martin Luther King, Jr. statue and I Have A Dream Memorial in City Park, just west of Park Hill. The annual tribute to the slain city rights leader kicked off with numerous speeches from elected officials and VIPs.
After the speeches, thousands marched and paraded down Colfax Avenue to Civic Center Park across from the state Capitol, in commemoration of King's 91st birthday.
This year's keynote speech was delivered by Eldin Bell, the former police chief of Atlanta who, as a young officer stood guard over King's body for 12 hours after his 1968 assassination. Bell highlighted the high dropout rates nationally for African-Americans and urged parents to be engaged and help their children excel in school and in life. Bell noted that, following a career in law enforcement, he has become a pastor. Rather than working to keep people in jail, he said, "Now I'm trying to keep them out of hell."
Photos by Cara DeGette